#OOTD 70's Flower Child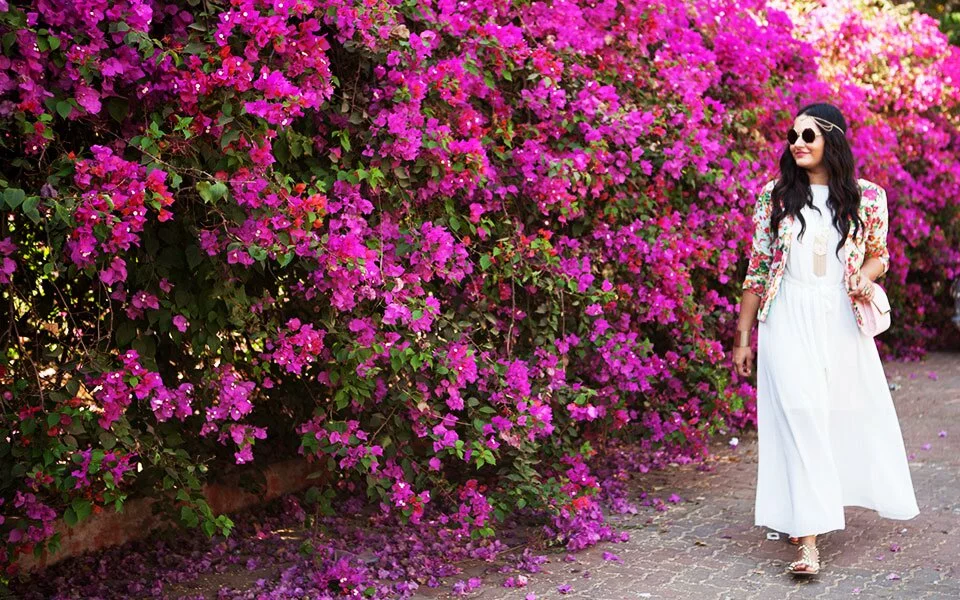 It's that time of year again! The skies are bright blue, every tree is in full bloom and stepping out for even five minutes guarantees a sun-kissed tan. Ironically, all I want to do is hole myself up in a quiet little cafe somewhere, sipping on a smoothie as another glorious Indian summer passes me by.
The only thing that could pull me out of the comfort of my temperature-controlled nest? A dress that promised the same results. Enter the white maxi. Not only does it keep you cool as a cucumber when the temperatures start to soar, but it goes with everything. And I mean literally everything. I've paired this ethereal number with bright, juicy jackets and shoes to lunch with my friends, long gold necklaces coupled with turqoise and and shell jewellery on a beach vacation and teamed it with a gold sequin jacket on a night out.
A transition piece of the very best kind, this little number by Missa More is my favourite new summer staple and makes nailing the white-on-white trend such a breeze. Just remind me to stay away from popsicles at all costs, will you?
Check out Missa More for more gorgeous maxi dresses to last you through the warmer months. Or follow my White Dress Inspiration board on Pinterest to see what to team with yours with this season.
OUTFIT DETAILS:
Dress: Missa More
Jacket, bag: Stalk Buy Love
Shoes, necklace, cuff: Forever21
Head Chain: Styldrv x Spring Break
Sunglasses: Propshop24
Ring: Bought in Spain